After Sales Services
Al Shirawi Enterprises LLC has been supporting customers in UAE to meet their after-sales service need, for over 40 years. The technical knowledge, local know-how and relevant experience is distinguishing attribute of our customer service, which is regarded & rated by our customers highly. Our focus is to update the technical and diagnostics skills of our technical consultants along with our facilities with the latest equipment to ensure best serviceability.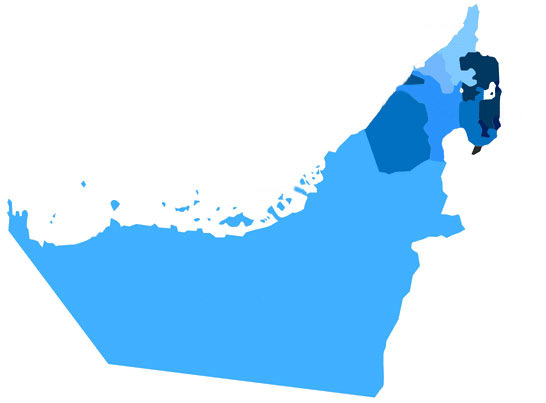 Al Shirawi Enterprises
Tel.: +971 4 371 8585
Fax: +971 4 338 9559
Dubai Investment Park 2,
Dubai, UAE

Ras Al Khaimah
Al Shirawi Enterprises
Tel.: +971 7 223 9069
Fax: +971 7 223 9068
Ras Al Khaimah, UAE
Dubai
DIP 2
Abu Dhabi
Sharjah
Ras Al Khaimah
SALIENT FEATURES
Factory trained and certified technicians, carrying out correct diagnosis and repair
Online manufacturer's service guidance accessibility
24-hour emergency assistance
Mobile service units in operation
Annual Maintenance Service Contracts and other Customized Offerings
Fleet Management Services to improve productivity & operational efficiency and to have complete control of their assets
With showrooms and workshops located in Dubai, Abu Dhabi, Sharjah and RAK. You are not too far from an ASE parts and service location for your SCANIA, CASE, STILL, MANITOU, KIRLOSKAR, CARRIER TRANSICOLD parts and services. You can always count on obtaining both assistance and professional advice – quickly and efficiently.
In addition, Al Shirawi maintains the fleet of mobile workshops and service vans service your requirements on call anywhere in the UAE 24X7. ASE supports all products with preventive and maintenance agreements, menu priced servicing and repairs, re-man programs and attractively priced service packages.
Service Support also offers a truck and bus body repair Centre and Repainting services.
SERVICE
Right Service Starts with right advice. Customer's Overall Operation profitability of machine is our goal.
We provide the finest of maintenance services within a time frame that defies expectation, tailored to meet your convenience. Every machine requires service and repairs during its lifecycle to maintain peak performance and reliability. Planned downtime for service and repairs minimizes standstills, helps extend service intervals, and saves time and money. The Al Shirawi Service Team is here to serve your business and can be made available to suit your requirement wherever and whenever you need us, 24/7. The key to the quality of our after-sales service is our competent and well staffed strength of technicians and engineers , who are ready to attend calls anywhere, anytime.
Our technicians are highly experienced professionals, they are backed by the very latest in diagnostic technologies and .The Company has continually updated the technical capability of the facilities. This translates to a host of benefits for our Customers:
Our technicians and professional mechanics give you a clear picture of the problem
Get the best advice the best options to fix the problem
Replace only those parts which are required and recommended by the Principal service guidelines.
Knowledgeable repairs help in not damaging other Parts , electrical and mechanical circuits.
Use Genuine Parts supplied by the Manufacturers which enable to maintain the Principal's manufactured Product -Quality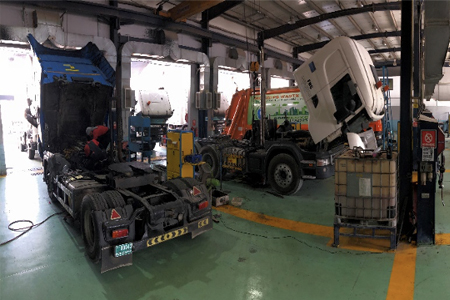 SCANIA Service Center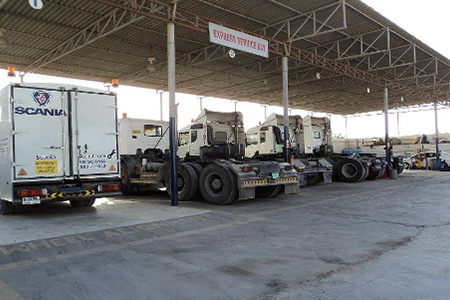 Workshop Facility in Ras Al Khaimah for SCANIA, Gensets , Carrier Transicold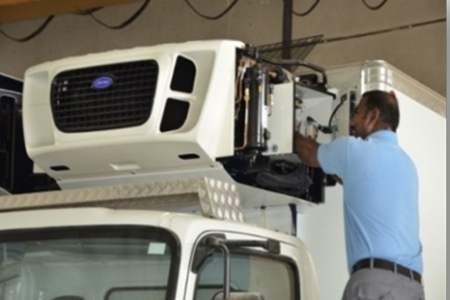 Carrier Transport Refrigeration Service Centre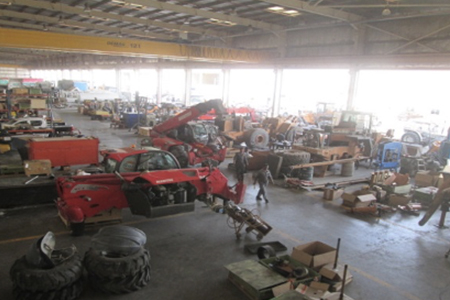 CE Service Facility at DIP, Dubai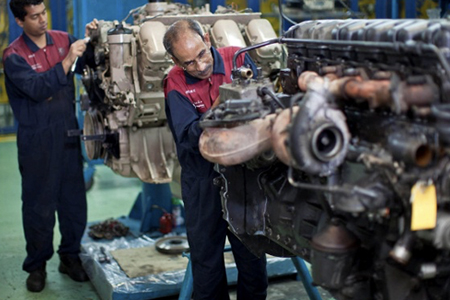 Engine shop and Service Centre for Power Gensets from SCANIA, Kirloskar and AJ Power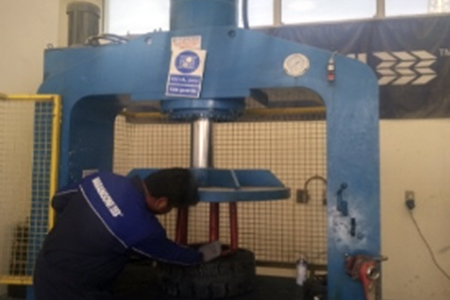 MH: Tire retreading and replacement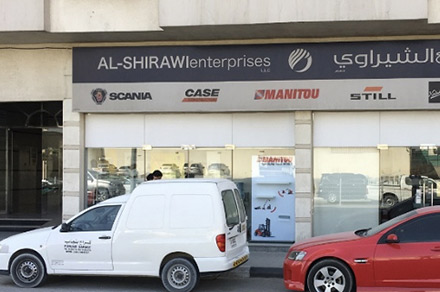 Parts Distribution – Sharjah Branch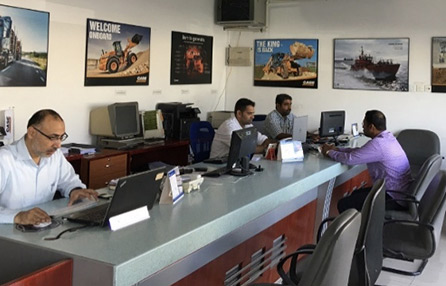 Genuine Parts Counter, Sharjah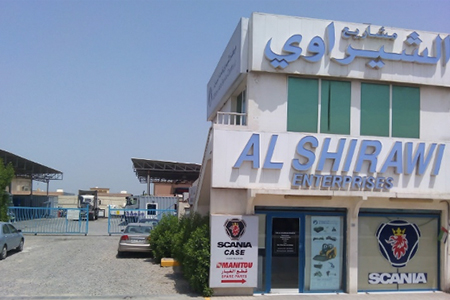 Parts Distribution – Ras Al Khaimah Branch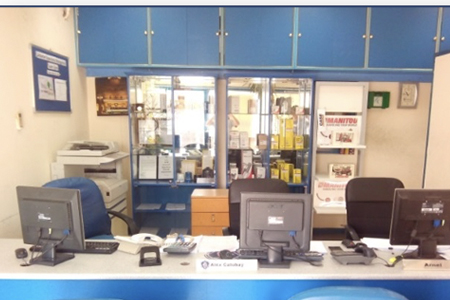 Genuine Parts Counter, Ras Al Khaimah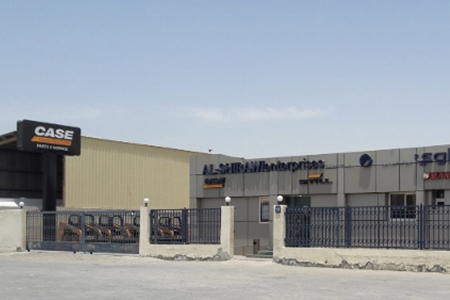 Parts Distribution – Abu Dhabi Branch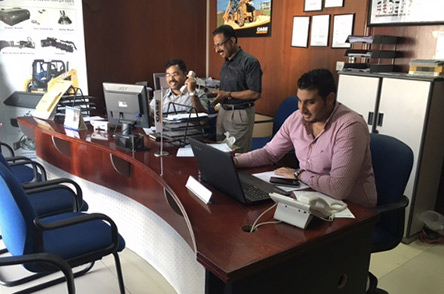 Genuine Parts Sales Counter, Abu Dhabi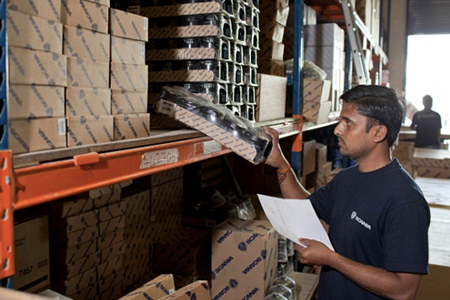 Genuine Spare Parts Warehouse in Dubai
PARTS
At Al Shirawi Enterprises, Customer Satisfaction is our number one priority, and our Parts Department aims to achieve this by helping you to maximise your up time. We supply only genuine parts, ensuring longer life, better performance and safety. Our parts warehouse and logistics infrastructure has been designed on hub and spoke model concept i.e. Central warehouse based in DIP 2 is the hub and it feeds parts to all branches in Dubai, Sharjah, RAK  and Abu Dhabi. We have Spare parts delivery service at the field and customer's warehouse or workshop , as per requirement . Our goal is high Up Time of Machines and Equipments supplied by us and that is ensured through Genuine Parts and Genuine Service, provided by our highly competent technicains. It increase the life of your vehicle, reduce risks, inprove the residual value and give you the most value for money.
BODY SHOP
Multibrand Refurbishment and Mechanical Repair Center.
We Specialize in
Refurbishment and accident repairs for all brands of Trucks, Trailers and all types of construction and heavy equipment
We undertake all types of processing of accident claims through all major Insurance companies in UAE for all types of Trucks, Trailers, Tankers, heavy and construction equipment
Chassis repairs with hydraulic assisted chassis repair system for all brands of Trucks, Trailers and heavy equipment
Modifications/Retro fitments jobs for Fuel Tankers and Trucks as per the customer requirements
Preventive Maintenance and diagnostics jobs for all brands of Trucks, Trailers and Tankers
Upgradation and Maintenance jobs for Hydrant fuel Dispensers and Refuelers
Refurbishment Jobs for all types of Tankers such as Fuel Tankers, Sulphur Tankers and Cryogenic Tanks
Fabrication and Refurbishment jobs for Outside Broadcast Vans (OB VAN)
Refurbishment Jobs for Oil well Interventions Machines
Accident repairs and Modification jobs for Cryogenic Tanks
We undertake onsite inspection
Recovery facility available for the recovery of all types of commercial vehicles and equipment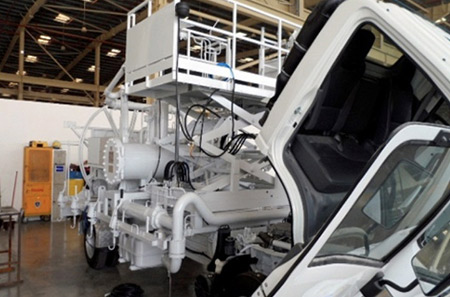 Refurbished Aircraft Fuel Dispenser Repairs in UAE

Inhouse Manufactured Hydrant Coupler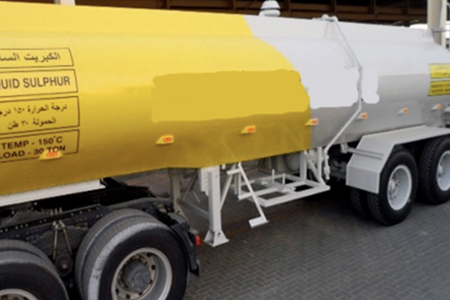 Refurbished Sulphur Tanker Repairs in UAE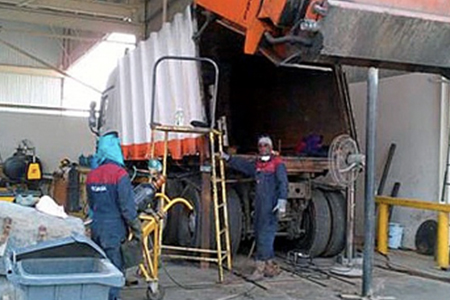 Refurbishment of Truck Mounted Waste Compactors repairs in UAE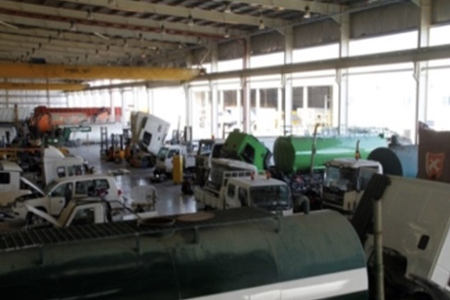 Accident Repair and fabrication Facility Bodyshop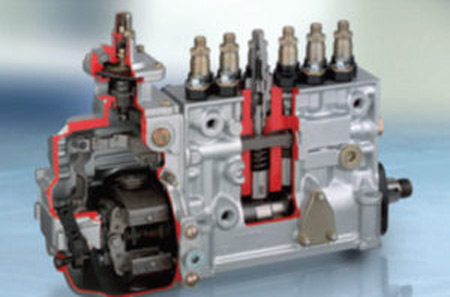 Fuel Injection Pumps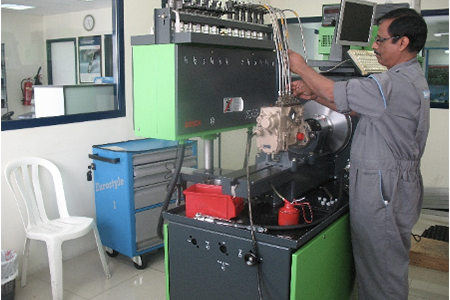 Bosch Diesel Fuel Injection System Service Centre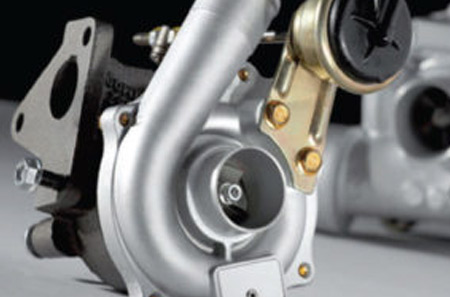 Turbochargers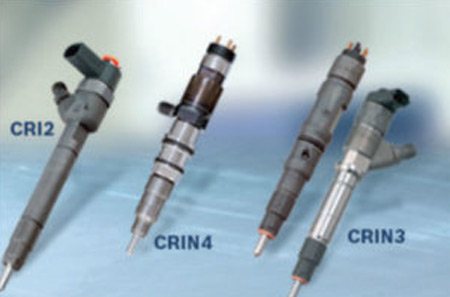 Diesel Fuel Injector
BOSCH DIESEL SERVICE
For all your Diesel Fuel Injection Repair Needs
Bosch Diagnostic Equipment and state of the art testing facility to undertake repair of modern technology:
Fuel Injection Pumps

Common rail CP1, CP2, CP3, HPO, CRI, VP44, UP, UI HEUI, STC, DPA, etc
Bosch, Zexel, Mico, Stanadyne, Delphi, Denso, Motopal, CAT, Cummins etc.

Turbochargers

Garrett, Holset, KK, Switzer, Komatsu, CAT, etc.

We Offer:

Diagnosis and Repair by highly trained and experienced technicians.
Collection and Delivery:

UAE : Daily Van Service
Overseas : Courier Service

Six months Warranty on all replaced parts and Labour.
Rebuild/Exchange program for injector pumps and turbocharger.
Competitive prices.
Special Price for annual contracts.
Extended opening hours based on customer requirements.
MECHANICAL & ELECTRICAL REPAIR SHOP
Mechanical & Electrical Division
AI Shirawi Enterprises M&E Division located in Al Quoz, Dubai & Musaffa Abu Dhabi has fully operational workshop with well-trained technicians allowing us to provide our customers with the capability to offer compete refurbishment of motors. Alternators vibrators transformer and submersible pump repairs.
Past eight years we have established ourselves as a leading specialist in rewinding of AC & DC motors, generators, transformers, We have well experienced technicians dedicated for breakdown assistance and repair works using the latest techniques to tackle even the most complicated & sophisticated jobs.
Our services
Rewinding and overhauling of all AC & DC motors
Rewinding and overhauling of alternators up to 2.5 MW
Armature rewinding
Stator core rebuilding
Dynamic balancing up to 2.5 ton
Vibration testing and analysis
Overhaul of all types of generators
On site laser alignment
Industrial and offshore Installation and preventive maintenance contracts
Generator repair and maintenance
Generator control panels including synchronization
24×7 breakdown assistance
pick & drop facility for the product
On-time delivery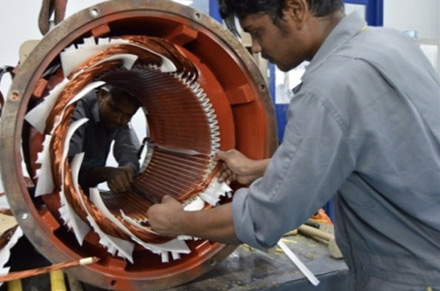 Mechanical & Electrical Repair Service Centre