Case IH Agriculture Equipments
Powering agriculture for more than 160 years. It was back in 1842 that we started creating powerful machines for the farming sector, and we have never stopped. Over these long years we have gathered, preserved and made good use of all the tradition, experience and prestige of those who, like us, have the present and future of the people who work the land at heart. The superb range of tractors, balers, Axial-Flow and conventional combines that Case IH offers reflects the heritage of Case, International Harvester and David Brown, three great agricultural equipment producers and brands, and all the power, productivity, reliability and performance essential to improving your farm's profitability in today's market.
Walk into any Case IH dealership with high expectations and you will not leave disappointed: you will find powerful, tough, efficient machines with an array of top-range features, an unrivalled after-sales service, ready access to all the guaranteed Case IH genuine parts, and customised financial packages from CNH Capital created especially for agricultural businesses.
CASE JX STRADDLE | JX95
Quick Specs
Engine: 8045.25-L939
No. of cylinders / aspiration: 4 / TC
Capacity / Bore x stroke(cm3) / (mm): 3908 / 104 x 115
Engine maximum 2000/25 EC power @ 2500 rpm (kW/hp): 72/98
Maximum torque at 1500 rpm (Nm): 370
CASE Magnum™ 340
Quick Specs
Engine: 8.7 liter
Rated HP: 340
Rated PTO HP: 290
PowerDrive​: Standard
CVXDrive: Optional
Available Track Widths: 16, 18, 24 and 30 inches
Available Row Spacing: 20, 22, 30, 34, 36, 38 and 40 inches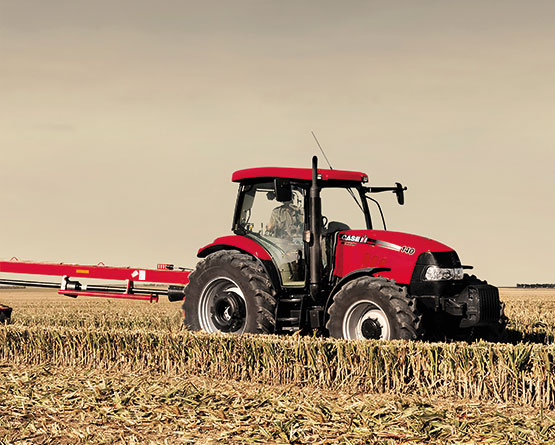 CASE Maxxum® 145
Quick Specs:
Engine: 4.5L Tier 4 B/Final with Selective Catalytic Reduction (SCR)
Rated PTO HP: 120
Rated Engine HP: 145
Max Boosted HP: 175
Transmission- Base: 16 X 16 25 mph (40 kph) Semi-Powershift
Multicontroller and CVT Options: Yes/Yes​​
CASE Farmall JXM 90
Quick Specs
Number of cylinders: 4
Type: Turbocharged
Emission Level: Tier 3
Capacity (cm³): 3,908
CASE FARMALL JX 80
Quick Specs
Number of cylinders: 3
Type: Diesel engine, turbocharged and intercooled
Emission Level: Tier 3
Capacity (cm³): 2,930
CASE JX 75T
Quick Specs
Number of cylinders: 4
Type Natural Aspiration: Common Rail Diesel engine with 24 valves, turbocharged and intercooled
Emission Level: Tier 1 (opt. Tier 3)
Capacity (cm³): 3.908
CASE Maxxum® 125
Quick Specs
​​Engine: 4.5L Tier 4 B/Final with Selective Catalytic Reduction (SCR) Rated PTO HP: 105
Rated Engine HP: 125
Max Boosted HP: 155
Transmission- Base: 16 X 16 25 mph (40 kph) Semi-Powershift ​
MultiController and CVT Options: Yes/Yes
WE SUPPORT YOUR BUSINESS 24X7
Genuine Parts
Genuine Service
Accessories & Attachments
Training
Used Equipments