Scania Commercial Vehicles
More than 120 years of transport experience, Scania has become one of the largest Trucks and Buses manufacture in the world. In 1981, Al Shirawi Enterprises were appointed Scania dealer in Dubai and the Northern emirates, raising the Scania market share from 0% up to 21% in 2001. Being a customer oriented Co., Al Shirawi Enterprises adopted a strategy based on Customer Satisfaction consisting of not providing the customer with a truck, but with a profitable transport system. This target was achieved by offering our customers a vehicle with the right specifications for the right application at the right price. Customer benefit was not our only task, driver's comfort was as equally important. This has persuaded us to equip our cabs with the most comfortable accessories such as, air suspension seats, air condition, power windows, stereo system, refrigerator and sleeping compartment.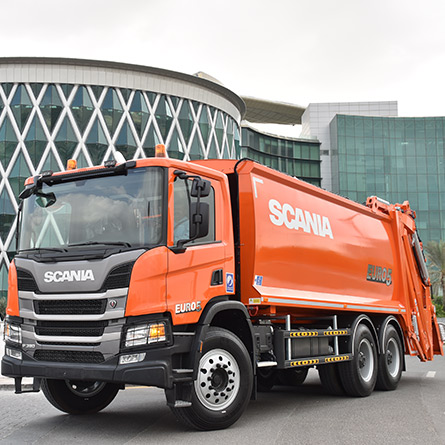 SCANIA TRUCKS
Premium quality for today's competitive environment
The transport industry is fiercely competitive. So your trucks must have high productivity, good total operating economy, and unfailing reliability. It's all about maximum uptime with minimum cost. Meanwhile, your drivers are demanding a truck they will be proud of.
This new Scania truck range delivers – big time. These premium-duty trucks offer a wide choice of options, enabling you to specify exactly the vehicle that you need for cost-effective operations. And also one that measures up to what your drivers are demanding.
You get high-torque engines with easy driveability and outstanding fuel economy. Cab options include improved versions of big, spacious sleepers, some completely new well-equipped day cabs, and two contrasting variations of short cabs. Common to all these new trucks is that legendary Scania reliability – the basis for long-term dependability and profitable transportation.
Specifications vary from market to market. Please check with your Scania Sales & Service company to verify availability of models and options.
SCANIA BUSES & COACHES
Scania offers a complete range of buses, coaches and chassis for public transport operators, coach companies and independent body builders.
Scania buses and coaches are renowned for their outstanding operating economy. Each component is engineered to heighten the performance of the vehicle and set world-class standards for fuel economy, driveability, road handling, reliability and uptime; and it is posible to customise each model to ensure that owners get the best solution possible – in terms of passenger capacity, number of seats, comfort level, and other key criteria – for the transport task in hand.
When it comes to your business needs you can rely on Scania to provide tailored service packages that suit all your ownership requirements and reduce your administrative overhead.