Case Construction Equipments
CASE construction equipment has been designed to provide solutions for all construction related requirements in the most simple a manner as possible with quality and durable products. They have perfected this principle over their 175-year-long history. With CASE, not only do you get world class equipment, but industry-leading warranties, flexible financing, reliable after sales support from the authorized dealers and more.
Wide Range of CASE Construction Equipment
Our range of CASE construction equipment includes: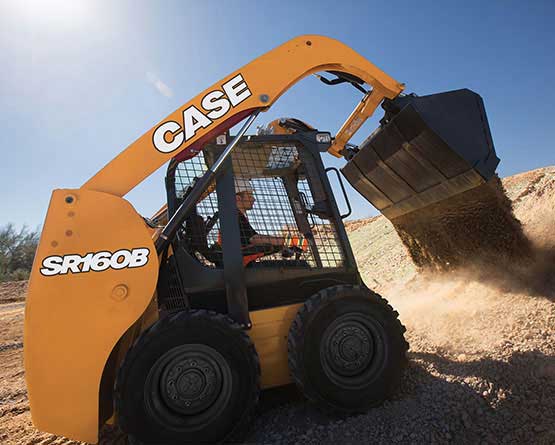 CASE SKID STEER LOADER
CASE skid steer loaders provide versatility, while ensuring maximum driver productivity. The skid steerers boast great headroom and lap-bar width. They also have ergonomically positioned controls and great all-round visibility with the best service access in the market. They have the options of the Radial Arm with SR Series and Vertical Arm with the SV Series. The CASE Skid Loader provide the best in class of with the best in power and operating weight taking on any competition in its class.
THE CAB
Comfortable Cab, better Sealed & Pressurized.
More head and foot room
High visibility in critical zones allows safe and efficient movement around the worksite.
New features like proportional aux controls (STD), electro-hydraulic controls, case drain (STD), connect under pressure (STD), glide ride option and a self-leveling system for the best operator's comfort
THE STABILITY
With the widest wheelbase in the industry and a low center of gravity, our skid steers are the most stable machines on the market. Confident operators get more work done.
THE MAINTENANCE
Daily maintenance just got easier. Our ground-level service checkpoints are easy to access and grouped together. Plus, the "easy to flip-top" cab tilts forward for complete component access.
CASE BACKHOE LOADERS
Model CASE 570T Backhoe Loader which is a 4 x 4 Backhoe Loader and CASE 695ST which is a 4 x 4 X 4 Backhoe Loader which has also a 4 Wheel Steer option as well included in the machine.
CASE Construction is globally recognized as one of the main Tractor Backhoe Loader Manufacturer in the world: up to now, more than 600.000 units sold.
The first model CASE 320 being produced in 1957.
First to develop extendable dipper First to introduce Ride Control on the loader First to offer Power-Shift transmission and integrated backhoe quick coupler.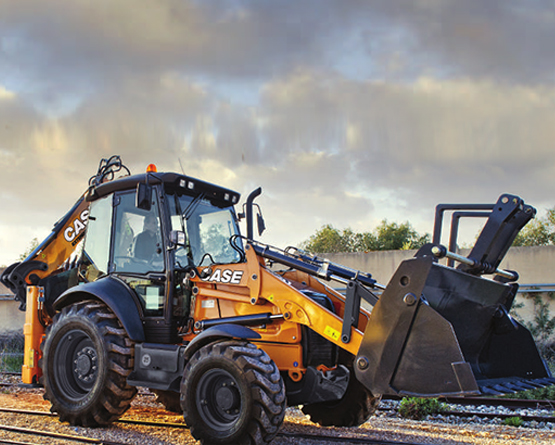 CASE 570T BACKHOE LOADERS
NEW S8000 FPT ENGINE
The best fuel-efficient engine in the market
High power and torque for a better productivity
Reliable and proven technology – more than 3.000.000 engines already produced
NEW IN-LINE 'S' STYLED BACKHOE BOOM
The best working range
Excellent performance in Digging and Lifting
Outstanding Reliability
TOP CLASS COMFORT - TRANSPORT AND VISIBILITY
Wide cab with new interior trim and 3-person dickie seat
Wide storage compartments.
New speedometer and new stabilizer control levers
HIGH RELIABILITY
Front axle Heavy duty type, designed to work in tough conditions
Double effect protected steering cylinder, with higher steering angle
4WD for maximum traction
EASY MAINTENANCE
Fully tilting engine hood
All daily check points easy to reach from ground
Side battery location
The backhoe loaders provide fast response times and powerful performance, along with economical fuel consumption. They are made using a robotically welded S style structure which is strong and robust for the best reliability. This provides great stability and returns on investment.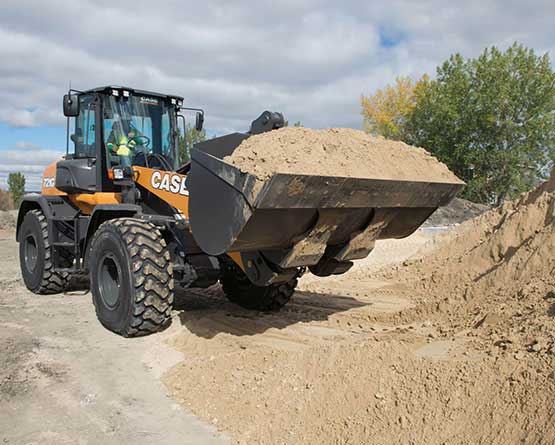 CASE WHEEL LOADERS
CASE wheel loaders are powerful and the most fuel-efficient machines with the best power to weight ratio. They have a compact frame, which provides great stability and breakout force. They have greater reliability in tough conditions with heavy duty axles. CASE Loaders have the best cooling design which increases productivity and reduce maintenance cost.
The Patented cooling module is unique in comparison with any type of Wheel Loaders in this market.
Models available range from an operating weight of 10 ton to 25 Ton in its class with various models available in the F Series Loaders.
The Cooling Module is a cube positioned in the Centre of the machine with all radiators mounted on 3 of its sides.
The hydraulic tank is positioned in the centre, to optimize the cooling effect.
The reservoir position is high over the pumps to eliminate the risk of cavitation.
A hydraulic driven fan, reversible and automatically actuated by a thermostatic sensor, draws fresh/clean air from outside through the radiators and the tank and blows it over the engine to the rear of the machine.
The CASE Loader buckets are designed to carry more material in their buckets due to the following
features. More rollback angle – 50 degrees, Better material retention.
Get your job done with fewer loading cycles
Flat bottom bucket delivers better penetration into the pile.
CASE CRAWLER EXCAVATOR
CASE crawler excavators provide great lifting as well as digging performance. They have an Intelligent Hydraulic System, which considerably reduces operating costs and improves productivity.
Excellent Productivity
Maximum Efficiency
Precision of handling.
Smoothness & Controllability
Maximum comfort for the operator.
Great Reliability.
High Assembly Quality & Japanese origin
Low Operating Cost.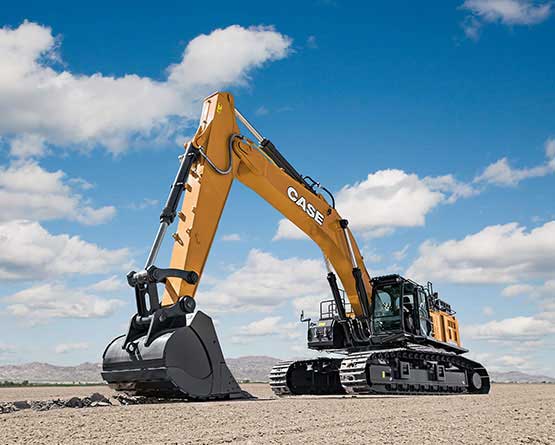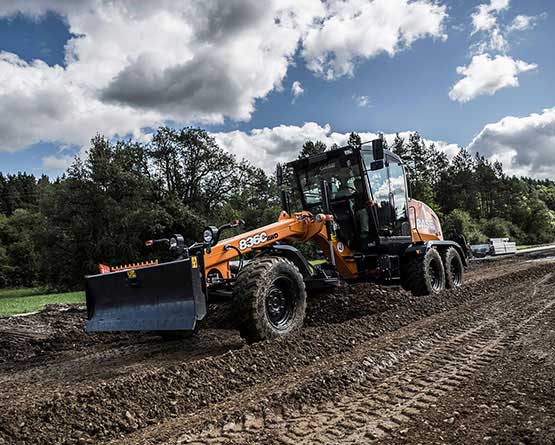 CASE GRADERS: C SERIES
CASE motor graders are built with a rugged A-frame, powerful engine and moldboard design. The road graders also come with best-in-class serviceability, industry-leading flip-up rear hood, and outstanding visibility. This helps you make even the toughest days productive.
CASE Soil Compactor
The soil compactors have single drum rollers and offer industry leading centrifugal force andgradea bility. The soil compactor machines have also been refined to offer great visibility and
efficiency.
Al Shirawi Enterprises offers the highest quality services, along with genuine CASE parts. We have a wide network of showrooms and warehouses in Abu Dhabi, Dubai, Sharjah and RAK. This ensures that you can easily reach us. If you any emergency assistance, we are at your service 24/7. If you want to know more about the price and spare parts of wheel loaders, road grader, loaders, CASE skid steers, backhoe loaders or road graders for sale, contact us right away.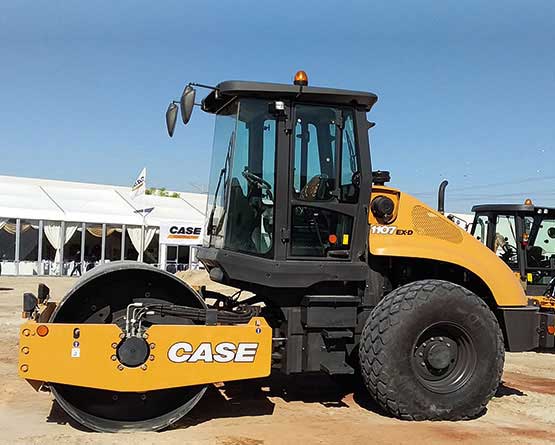 WE SUPPORT YOUR BUSINESS 24X7