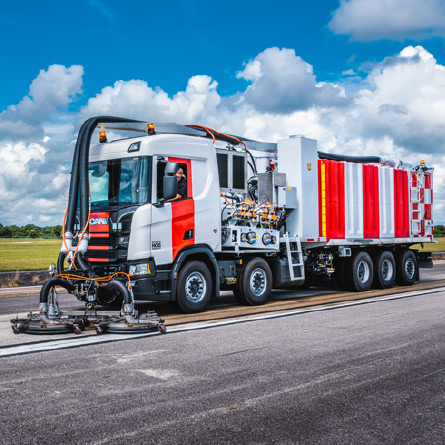 SPECIAL PURPOSE TRUCKS
For certain operations, normal commercial trucks are not enough. These demanding and complex operations require Scania's specialised trucks. Scania trucks are the best choice for operations such as fire and rescue, airport support, defence, and waste handling. Every part of these vehicles, including the gearbox, chassis and engine, has been specially designed to overcome the challenges of such operations.
Scania Special Purpose Trucks
Scania special purpose trucks you can choose from at Al Shirawi include:
Airport Support Trucks
Scania makes trucks for operations such as airport sweeping, airport support, airport catering. airport crash tender, airport de-icing and airport refuelling. The trucks come in 9 litre and 13 litre gas engine variants. These engines can run on a variety of alternate fuels, helping you minimise emissions. The trucks also offer great acceleration speeds, payload capacity, right PTO options and smooth handling around aircraft.
Fire and Rescue Trucks
For a fireman's truck, trustworthiness is vital. Scania's great build quality, along with flexibility of maintenance plans, offers you this reliability. Scania firefighting trucks are incredibly safe as well. The entire crew is protected by four rollover side-curtain airbags. Plus, the City Safe Window of these heavy rescue fire trucks allows drivers to easily detect pedestrians and cyclists.
Waste Handling Trucks
With waste handling trucks, high uptime is incredibly important. An unplanned stop can lead to penalties from the authorities, need to rent another vehicle, and emptying and cleaning the container. But the incredible build quality and great maintenance services minimises the possibility of such events. Scania trucks also offer great visibility, driveability and low emissions.
Additionally, Scania offers heavy rescue tow trucks, peacekeeping vehicles and defense vehicles.
Al Shirawi Enterprises offers you amazing support for as long as you own the Scania vehicles. We have technicians who know all the ins and outs of all these vehicles, be it a defense or a firefighting truck. Plus, we offer genuine Scania parts. Contact us to know more about new rescue trucks, fire rescue trucks, and waste handling trucks for sale.