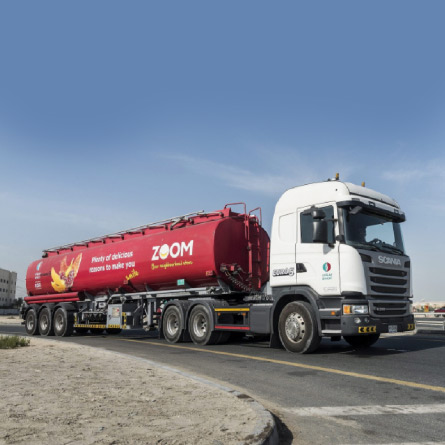 Petroleum & Chemical Transport
With oil, gas and chemicals, extremely high levels of safety and reliability are required for transport. This is exactly what Scania oil and chemical transport truck provides. Scania offers you peace of mind with their expertly engineered and well-built transport trucks. The trucks are completely modular from the ground up, ensuring that all your requirements are met.
Petroleum & Chemical Trucks You Can Choose From
Scania oil and chemical transport trucks include:
Fuel Transport Trucks
For crude oil transportation by truck, less weight is better. Scania has mastered the art of cutting down the weight of its vehicles. In fact, for every 100 kg reduced by Scania from their unloaded fuel delivery truck, you can save up to €2,000 each year. The weight is saved with folding seats, mountable fifth wheel and changing the air suspension from 2 wheels to 4 wheels.
The petrol transport trucks are incredibly safe as well, whether you are driving long distances or locally, downstream or upstream. These oil and gas delivery trucks offer great visibility, stability, handling and braking.
Tanker Truck
Scania tanker trucks allow you to safely transport hazardous materials, even on the most difficult routes. Scania chemical trucks are easy to manoeuvre and comfortable to drive. Plus, they offer great fuel economy. Around 30% of the running expenses are usually fuel costs. These trucks come with Scania Ecolution feature, with which the vehicles can consume 10% less fuel, lowering costs.
Scania has reduced the unladen weight of these vehicles as well. This allows you to carry a bigger payload, increasing your revenue. Lastly, Scania vehicles come with flexible service plans. With this, the perfect servicing time for each vehicle can be identified.
Al Shirawi Enterprises offers genuine Scania trucks, with unmatched after sales service. We have a team of highly qualified technicians, who are at your service 24/7. We also offer genuine Scania spare parts, along with delivery services for these spare parts. Contact us to know more about the price of oil and chemical tanker trucks for sale.