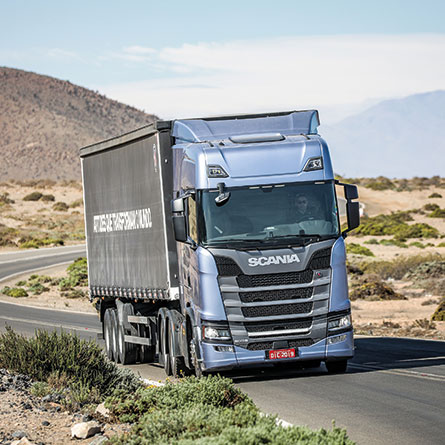 Distribution Trucks
Scania distribution trucks are built to maximise efficiency, while keeping running costs low. These high-quality distribution vehicles deliver maximum productivity and uptime. The improvements can even be seen in the lower cost per kilometre over the complete service life of these vehicles. Additionally, Scania delivery trucks are known for their exceptional driveability and reliability.
Why Scania Trucks are Exceptional
Some of the reasons that make Scania trucks stand out are:
Low Operating Costs
When you get a Scania distribution truck, you can be assured that you have a vehicle with incredibly low running cost for a long time. This was revealed via a survey of existing customers. The survey showed low warranty costs and long ownership cycles. Both are strong indicators of satisfaction and reliability.
Easy Compliance
Scania distribution vehicles also help in reducing the impact on the environment. All their inline engines come with Scania exhaust gas recirculation technology (EGR). This enables compliance with voluntary enhanced environmentally friendly vehicle (EEV) as well as Euro 5 standards. This means that you will be able to easily comply with even the strictest emission standards.
Manoeuvrability and Drivability
Scania trucks come with great turning ability and amazing torque. Plus, they offer exceptional visibility and control. This makes them a joy to drive and easy to manoeuvre. They also have large windscreens and wide-angle mirrors, which improve visibility. The semi-trailer trucks have great weight distribution, improving drivability.
Unmatched Comfort
You can choose from a wide variety of seats, according to your comfort. Plus, the trucks come with the ATC feature. With this, the temperature is automatically controlled in the truck. It also has air suspension and adjustable steering.
If you want to buy a Scania distribution truck in the UAE, Al Shirawi Enterprises is the go-to place. Our car and heavy vehicle distribution company offers exceptional after sales service. Plus, you would never have to worry about genuine Scania spare parts. The Al Shirawi vehicle distribution group also offers mobile service units. Contact us to know more.