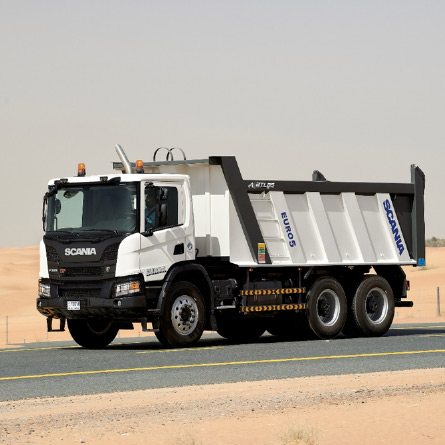 Construction Vehicles
Scania construction vehicles are extremely powerful, reliable, and rugged. The trucks also offer great driveability and manoeuvrability, making driving on even the most difficult of terrains easy. In fact, they offer an extremely comfortable driving experience. With them, even long hours behind the wheel don't seem tiring.
Range of Scania Construction Trucks
The different types of Scania construction trucks available are:
Tipper Truck
Scania tipper trucks can carry any kind of load on any type of road. The tipper trucks are highly versatile. These Scania construction dump trucks for sale can easily overcome the challenges of off-road conditions as well as the close quarter maneuvering, needed in an urban environment.
Mixer Truck
Scania mixer trucks offer the right balance of robustness and carrying capacity. They also offer great visibility and come with power take-off and safety features, such as Electronic Stability Program and Traction Control.
Construction Pump Truck
Scania construction pump trucks can be optimised to your specific requirements. You can specify the engine, transmission, as well as the chassis variant.
Hooklift Truck
These trucks for construction work come with plastic covered, steel reinforced, protruding bumpers, making it highly rugged. It also has the Scania Opticruise feature, making the gear shift fast and smooth.
Skip Loader Truck
These trucks are focused on reliability, safety and durability. They come with features such as automatic hill hold, electronic parking brake and the city window. This means that these construction trucks drive well on dirt as well as asphalt.
Mobile Crane Truck
This Scania truck is the perfect vehicle for carrying your mobile crane. With this, you can fine tune the vehicle to your needs. Elements such as engine and gearbox can be chosen according to your requirements.
Flatbed Truck with Crane
The Scania flatbed truck with crane offers excellent maneuverability. It also has great loading capacity, which can be adapted to different types of cargo.
Heavy Haulage Trucks
These big construction trucks are extremely powerful and reliable. They are easily able to withstand the heaviest of loads over long distances.
With Al Shirawi Enterprises, you can be assured of getting only genuine Scania equipment, along with unmatched after sales service. We have a wide network of showrooms and warehouses throughout the UAE. So, we are always within easy reach. Contact us to know more about Scania dump trucks and other construction equipment for sale.