Kirloskar Generating Sets
The Kirloskar group was founded in the year 1888 by the late Mr. Laxmanrao Kirloskar and has a rich engineering heritage of more than 120 years. Over more than a century, Kirloskar brand has earned customer confidence for reliability of its products and services.
Kirloskar Group has been active in the Middle East and Africa since the 1960s. A need was continuously felt to establish an identity in the region, which would be close to the end customers as well as the channel partners in the region. Kirloskar Middle East FZE (KMEF) was founded in November 1996 with the objective of further improving response to customers' requirements.
During the past 15 years, KMEF has developed an impressive set-up for marketing and after sales service. KMEF carries stock of Diesel Engines, Generating sets and Refrigeration Compressors as well as Spare parts at Ajman warehouse. The stocks are utilized by channel partners to meet urgent delivery requirements. It also reduces their transaction costs. Some products are also sold directly to end users. This helps KMEF to be aligned with the market realities.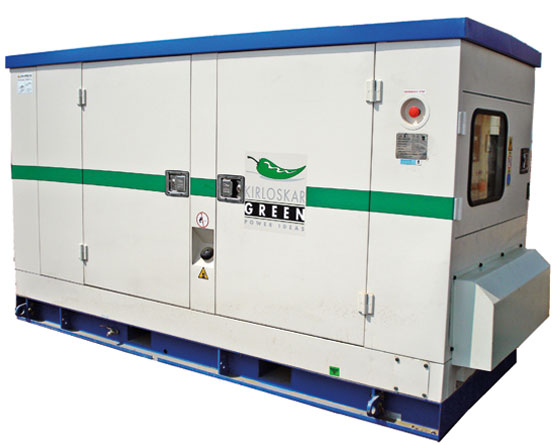 DIESEL GENERATING SETS KG40W / KG40WSCASE
Features
Extremely reliable.
Lower operating cost.
Easy maintenance – higher uptime.
Sound attenuating enclosure (canopy) is fully integrated and designed for all weather conditions (weather proof).
Best in class Sound attenuation – 70 dB(A) at 7 meters as per ISO 8528
State of the art generating set control system with high degree of accuracy and reliability.
Ideally suitable for critical industries like Construction, Manufacturing, Textile, Telecom, Services etc.
Superior design standards that minimize power deration even at high ambient temperatures.
Efficient and prompt after sales service available.
Winner of the frost & Sullivan Voice of Customer Award in the "Best Bang for Buck" category in the Indian Generating sets Market.
WE SUPPORT YOUR BUSINESS 24X7 After-Sales Services Kirloskar Genuine Parts Kirloskar Genuine Service Rental & Leasing Kirloskar Training Kirloskar Used Equipments